Our geotechnical drill rig range is the largest on the market. The smallest rig in the fleet, the two- tonne GM50, can be transported on a car trailer. At the other extreme, the eight-wheeled flagship model GM8 is a mammoth that can traverse even the most difficult terrain with low ground pressure.
Our intelligent geotechnical drill rigs come with an electronic control system and the GMTracker data-logging software that allows the soil investigation and rig operating data to be uploaded to a cloud service for further use and analysis.
The rigs are modular and can be configured with a boom and drilling accessories to suit the needs of individual users. The booms can also be installed on carriages other than Geomachine ones if they have the necessary hydraulics.
Geotechnical drill rigs can be fitted with an optional electric power pack for emission-free and silent drilling. Our diesel engines meet the strictest Stage 5 emission standards.
Though small in size, the GM50 is a versatile geotechnical drill rig suitable for all main investigation methods except for casing and core sampling in rock. It has enough power to accommodate percussion drilling for hole-opening purposes. The rig can also be used to install small groundwater pipes in shallow groundwater wells.
The compact size of the GM50 drill rig makes it easy to move it from one site to another on a car trailer. It is also easy and fast to get up and running at the site.
GM75 is the most popular of the Geomachine drill rig models. With considerably more power than its little brother, it can easily handle all medium-duty geotechnical investigation methods.
GM75 always comes delivered with a fast and versatile chain cylinder boom. It can also be equipped with a hybrid pack that allows drilling without local exhaust emissions.
GM85 is a versatile option for all moderately difficult geotechnical investigation and exploration work. Having more power, it can work faster and go deeper than the smaller options in our range.
Available with both a direct cylinder and chain cylinder boom, GM85 can also be equipped with an optional rotary head for core sampling in rock. GM85 is also available as a hybrid.
GM100 is a tireless, efficient and fast workhorse for the most challenging, heavy-duty geotechnical investigations and explorations. It is ideally suited to percussion drilling and the installation of large groundwater pipes.
GM100 can be equipped with a direct or chain cylinder boom and various rotary heads to meet the user's needs. An optional hybrid pack is also available for drilling in urban conditions without producing exhaust emissions.
GM200 is designed especially for core sampling in rock, which is made much easier with the work platforms installed on the rig. This geotechnical drill rig also has a dual drilling table for fast and effortless changing of the drilling method from casing drilling to core sampling in rock, for example.
The rig can be equipped with a heavy-duty geotechnical or geological direct cylinder boom. GM200 is also available as a hybrid with an optional electric motor, allowing for emission-free core sampling in rock.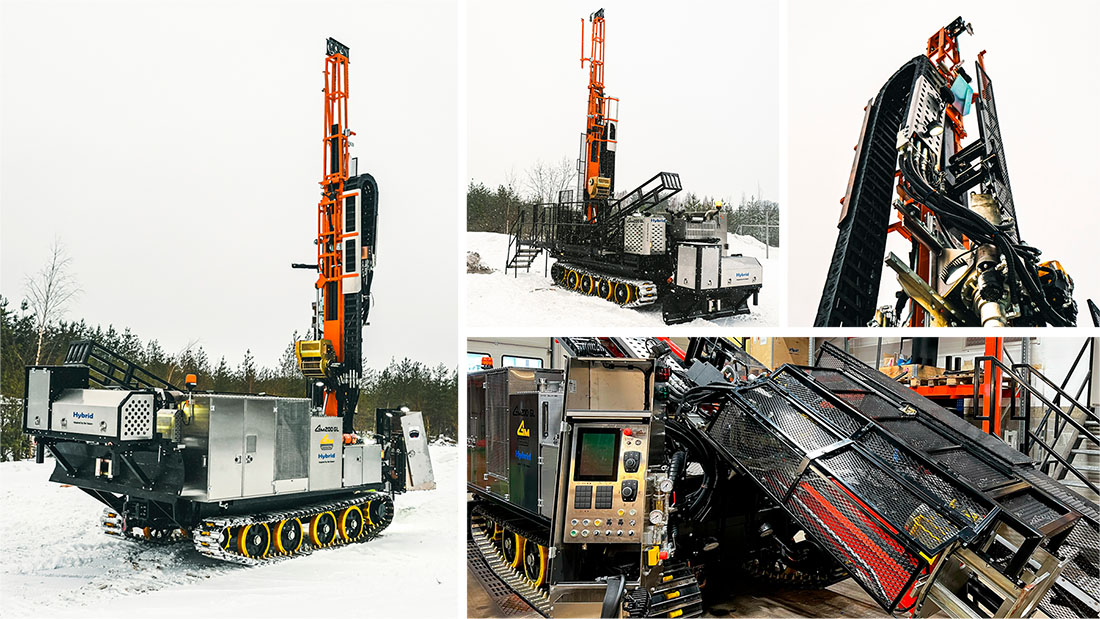 GM8 goes where no other geotechnical drill rig can. The eight-wheeled special model is designed to access sites in the most difficult terrain. With eight large wheels, the ground pressure of the nine-tonne rig is low.
GM8 can be fitted with all Geomachine boom types, making it ideal for any geotechnical investigation and exploration work. The rig is also available with a hybrid pack.
GM Hybrid is the world's first emission-free alternative for soil investigation.
When a drilling rig is equipped with the hydraulic pack, the rig's power source can easily be changed from diesel to electric.
Solution is designed for drilling operations without exhaust gases in urban working conditions. It is especially good while working in environments with emission or noise restrictions, as well as indoors.
The GM Hybrid engine pack can be fitted to five different Geomachine rig types GM75, GM85, GM100, GM200 and GM8.