Just like all Geomachine products, the GMair35 compressor is designed to operate in the most challenging conditions. The product development focused on the essential requirement – the safe and cost-effective compressed air supply.
Reliable and economical
The GMair35 compressor is powered by a 16-litre Scania V8 engine and equipped with a GHH Rand screw. The high efficiency is ensured by a hydraulic variable-speed cooling fan that operates only on demand.
The GMair35 compressor only uses the most reliable components on the market, with special attention paid to ease of maintenance. The user interface is intuitive, and the device itself is extremely simple to use. Thanks to the compact design, the compressor is also easy to transport from one site to another, either separately or as a fixed installation on a truck bed.
The compressor is now available with an auxiliary air tank and compressed air cooling/drying. Depending on the drilling method, it can also be equipped with an optional GMTrackerDTH data-logger software, allowing for easy performance monitoring and usage data logging for further use. Especially a lot of time is saved by using an auxiliary air tank during the filling phase of the drill rods, so the actual drilling can start earlier. The auxiliary air tank is filled during the addition of rods.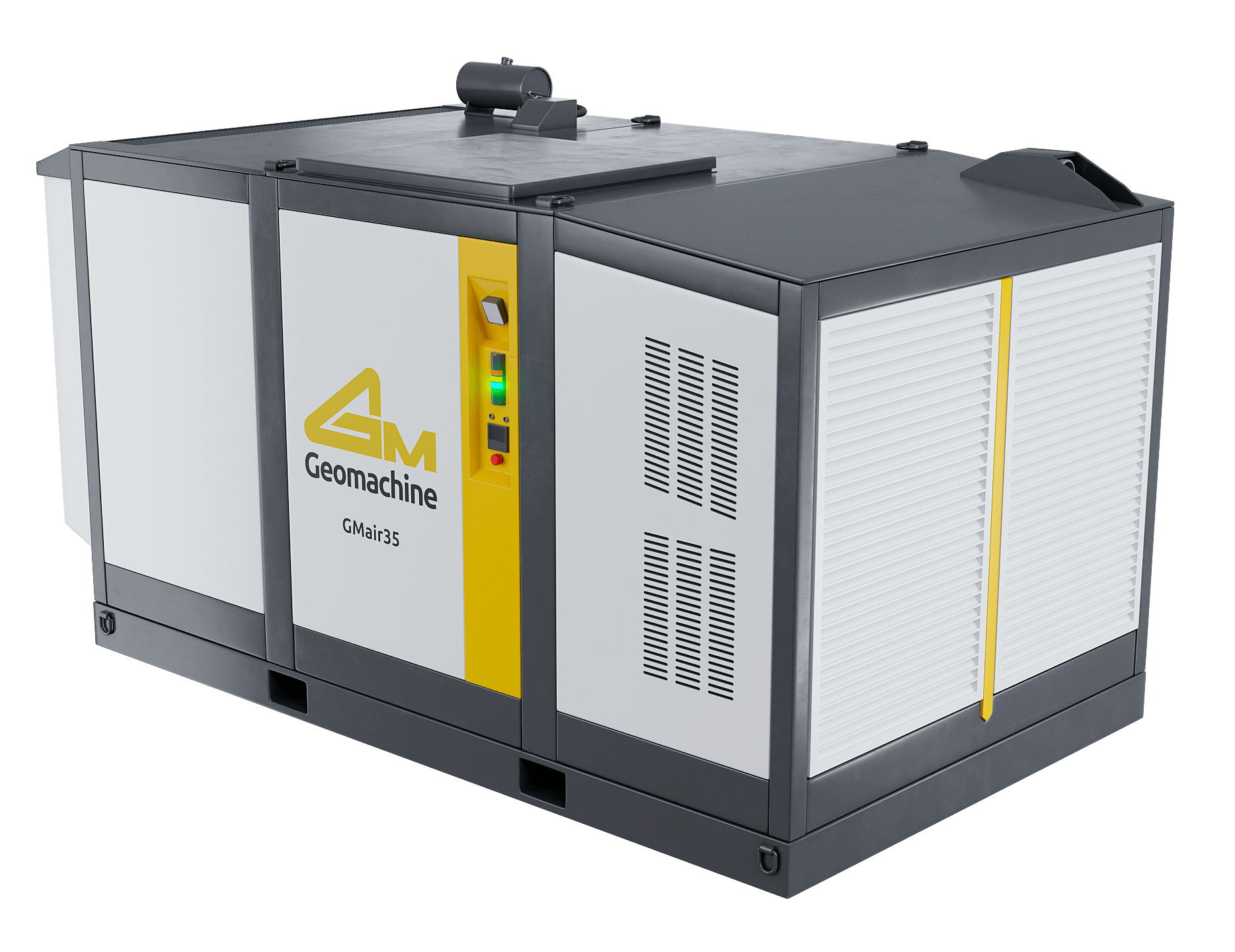 The GHH Rand 35 bar/29 m3 air end used in the GMair35 compressor is known worldwide for its reliability. The compressor's Scania DC 16 diesel engine is reliable, with local service and support commonly available. Reliability has also guided the other component choices.
Special attention has been paid to the ease of maintenance with features like covers that can be fully opened for better access.
The interface is simple and intuitive.
The engine and air end are mounted on a common subframe attached to the main body through vibration dampers.
The compressor can be mounted as-is on a truck.
The GMair35 compressor has hydraulic cooling fan drives. The variable-speed fan runs on demand only, further increasing the efficiency of the operation.
LED working and maintenance lights
Lifting points on the top, tie-down points on the sides
Remote monitoring
Auxiliary compressed air tank, 300 litres
Compressed air cooling and drying
GMTracker DTH software and cloud services